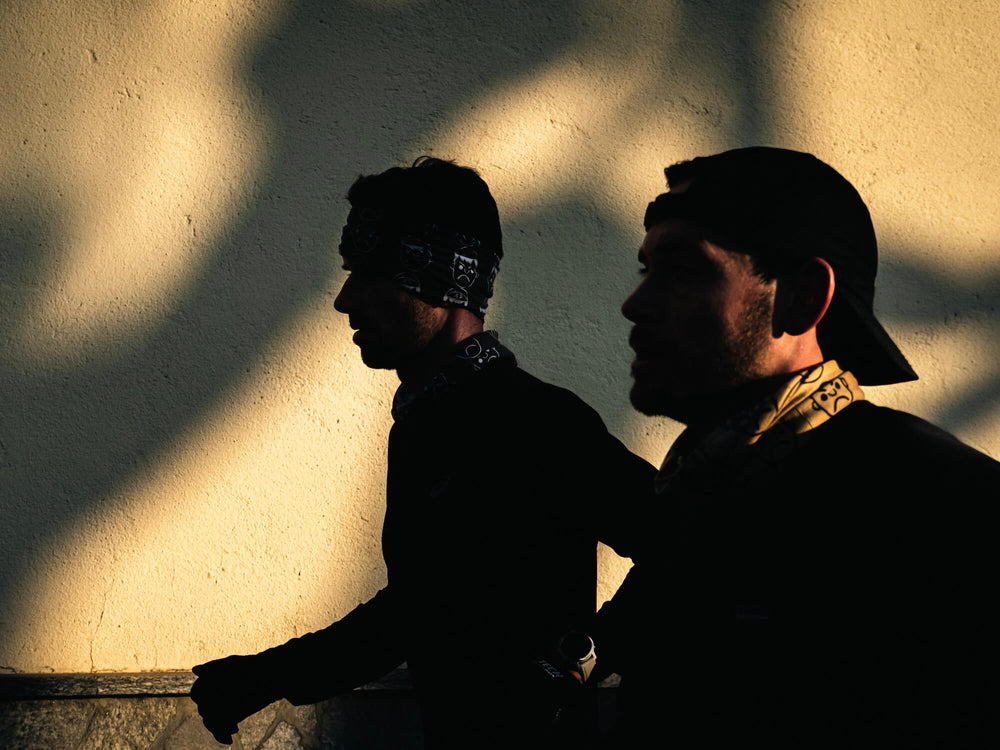 'MORE FUN, LESS INTIMIDATING' - HOW ANGRY PABLO IS DOING CYCLING APPAREL DIFFERENTLY
The Brighton-based brand places a focus on building active communities and nourishing cycling's crossover with other sports.
Words: Rachel Jary (Rouleur Magazine)
There is no doubt that cycling apparel is a daunting industry to enter. It's a crowded market, and a complicated one too. Technological advancements in fabrics are evolving daily and the requirements for cycling kits are uniquely challenging. Aesthetics and brand identity also play a major role in determining the success of a brand. It's for this reason that newcomers to the scene need to ensure that they stand-out from the crowd, offering something fresh for consumers who are likely sick of being told that one jersey is more lightweight or aerodynamic than another. Brighton-based brand Angry Pablo, who launched its first riding collection earlier this year, believes that it has that box ticked.
"The idea came from the fact that we felt like a lot of the cycling brands out there were a bit all-or-nothing," Jago Leckie, co-founder of Angry Pablo explains. "They didn't offer us anything. We've always been of the mindset that while we enjoy cycling, we also enjoy other sports. For a long time we'd felt like we couldn't relate to a lot of the cycling brands out there."
Leckie, a former triathlete, grew up racing at his local velodrome alongside Felix English, a now-retired Irish road and track cyclist who won multiple Track World Cups and raced at the 2020 Tokyo Olympics. While the two friends followed different pathways after racing together as teenagers, they were brought back together in recent years by a shared feeling that cycling wasn't quite exciting them in the same way that it used to.
"In 2020, Felix called me on Zoom. We were living in different countries at the time. He pitched this idea to me of creating a cycling brand," Leckie says. "We came up with the idea of starting off with socks, a product we knew could reflect how our brand was more fun and less intimidating. We wanted to make something that people from outside the sport would look at and think: that's actually quite cool. We quickly expanded to other accessories, like musette bags, t-shirts and bottles. It kind of just spiralled from there."
While English had been deeply embedded in cycling at the very highest levels training for the Olympics, Leckie explains that he'd almost completely fallen out of love with the sport before starting Angry Pablo. This meant that the two men approached the brand from starkly different perspectives, something that both believe ended up being positive from the very beginning.
"Felix was obviously training for the Olympics, but I'd been out of the sport probably for eight or nine years at this point. I'd stopped racing when I was 20 and didn't even have a bike at the time. We had someone who was very much involved in the cycling industry and someone who was kind of a bit on the outside," Leckie says. "I actually bought a bike for the first time in ages and I was trying to get involved in group rides. I quickly realised how difficult it was to get back into the sport. It was intimidating – and that was coming from someone who had raced in the past.
"We're looking at it from the perspective of someone that hasn't raced and has just bought a bike. It's like, where do you fit into this industry and this world?"
Angry Pablo was born with a focus on creating sustainable, quality kit that fits into cycling, running and lifestyle categories, all while building an inviting and welcoming community for newcomers to the sport. The fun and lighthearted element of the brand is perhaps nowhere more prevalent than in the name itself: "We know a guy called Pablo who is incredibly happy, so it's a bit tongue in cheek," Leckie explains with a smile. "I think there's a little bit of Angry Pablo in everyone; it can be whatever you want it to be."
Rather than looking to other cycling-specific brands as their key competitors, both English and Leckie compare Angry Pablo to lifestyle companies that have a prevalence across a range of sports.
"We looked at brands that we really liked and admired outside of cycling, like functional fashion brands that started off in their niche area and have built a wider following," Leckie says. "We always thought: why can't a cycling brand do that? You have the likes of Patagonia or Arcteryx that have started off in their niche and then they become a brand that everyone recognises and loves, even if they don't do those specific sports."
While they have hopes that one day Angry Pablo will reach the global heights of big sportswear brands, the Angry Pablo community is first being built close to where both its founders' hearts are: their hometown of Brighton. 
"We picked the location that we knew and felt represented us the best," Leckie explains. "We're both from Brighton and have always wanted to create a community hub there, so we've used running to start building one. There's a massive crossover nowadays between cycling and running. We felt like that it was something that reflected the brand and our values."
It's clear from Leckie's answers that Angry Pablo is a brand that has been built with the people who will wear the kit at the forefront of decision making – this shines through in English and Leckie' efforts to engage with local communities and ensure cycling is a more inviting place for all. However, both of the founders share an understanding that Angry Pablo kit has to be high-performance too, and insist that the quality hasn't been sacrificed while placing such a focus on building the brand identity.
"Some people think we're quite anti-performance, but we're not. We really respect and admire performance but we don't want it to be, like, in your face with our marketing, always saying it's performance or nothing," Leckie says. "We're very much of the mindset that while performance is cool, it's a very small part of being in and around sport."
With English's background in cycling at the highest level, he is a perfect tester for Angry Pablo products and was crucial to building the riding collection that the brand released earlier this year. 
"I had a very good idea of what I wanted from both the cycling kit and materials used," English explains. "When me and Jago were in Italy, we got to the point where we'd developed the fit of the jersey and it was time to decide on fabrics. We had to sit there for pretty much the whole day working through maybe 2000 fabric samples, looking at them, stretching them, trying to see through them, everything."
See Angry Pablo at Rouleur Live 2023.
"I have a friend that works in environmental consultancy within the fashion industry and he also helped us to understand what materials were more sustainable than others, which materials we should be looking for and which ones to avoid," Leckie adds.
Although Angry Pablo has undeniably been successful in its launch, neither English nor Leckie are afraid to admit that there have been challenges along the way getting the things off the ground. The ideas and concept for the brand have always been strong, but translating that into a physical product was a whole different ball game.
"It's been a very steep learning curve for both of us, but I think we've both been around sport for so long that we knew exactly what we wanted," Leckie admits. "It was just a case of working out how to get that. A lot of our time was spent talking to different manufacturers and trying to figure out what was going to work for us."
One of the biggest stumbling blocks for Angry Pablo was finding a manufacturer in Italy that would take a risk on a small brand that they believed had some potential.
"We would send out emails to loads of partners and just receive nothing back. That was very challenging and I think for a lot of brands that could be very disheartening," Leckie says. "But I think we were very persistent in our desire to manufacture in Europe, we wanted to be very transparent in our manufacturing process. We never just took the easy route of going to China, which would have been very simple for us. We didn't rush things and I think that's probably one of the best things that we could have done. Normally, we're both quite impulsive, but with that we were restrained."
The current Angry Pablo riding collection is small and focused, made up of bib shorts, a jersey, gilet, socks and base layers. It was a conscious decision to keep this compact so that enough time and attention could be given to each product. As the brand grows, Leckie and English want to keep things refined, growing their lifestyle collection alongside their cycling range, while keeping quality at the forefront of decision making.
"We're looking to develop those three core lines that we have at the moment. We've got cycling, workout and casual collections. I think the plan for next year and beyond is just to keep improving those three core collections without putting a specific emphasis on any single one. We'd like to grow organically," Leckie says.
English is in firm agreement with his colleague – both men seem to want to keep what makes Angry Pablo special and unique at the core of the brand, even as it continues to get more popular. It isn't about claiming that Angry Pablo has the best aerodynamic properties or has dreams to be in the WorldTour, but about creating a brand that means something to real people, and crucially has a positive impact on the lives of those who love sport.
"It's not about necessarily increasing what we offer, but continuing to improve our three core collections. That's what makes us different," English says.